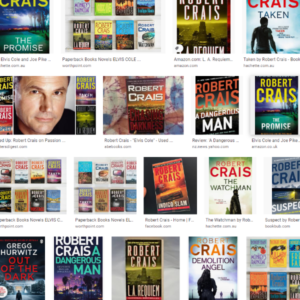 I picked up my first Robert Crais novel, Chasing Darkness (2008) and was immediately hooked.
This book had Joe Pike as the central character. He's an ex-marine and loves to hunt down the bad guys. (As a superfan of Jack Reacher from Lee Child, the similarities and differences really appealed to me).
Most of the Crais's books have Elvis Cole as the central character. He's a private detective, with a effervescent sense of humour.
As for a reading order for Robert Crais books, I propose you do the same as I did. Start somewhere in the middle of the series (I think you'll really like the books with Pike as the central character), move forward from there and then wrap around to book #1 again.
Enjoy!
Robert Crais's Elvis Cole / Joe Pike Books In Publishing Order
Other Robert Crais Novels (not in the Cole/Pike series)
Your Thoughts?
Are you a huge fan? Have you just begun reading the books?
Which order is best?
Have your say in the comments below.